Newest Articles VIEW ALL
Part of our monthly free concert series! This Sunday, November 10th, the Chris Coles Quartet will be performing at Waterloo Arts from 4:00-5:30 PM. The Quartet features Chris Coles on saxophone, Graeham Guerin on bass, Andru Denis playing the piano & Anthony Taddeo on drums. The group performs an eclectic blend of RNB, gospel, world […]
Check out this new interactive map that the Collinwood Collective put together for our district art walks. Click on any location on the map for more details about the venue and what is happening there on Friday. A huge thanks to Sam Newman for putting this together! Share this: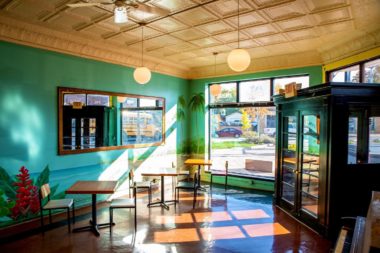 The cafe space at Waterloo Arts is available to rent and the organization is currently seeking proposals from potential tenants. The space has a warm, "old world charm," set in a progressive arts atmosphere. We are seeking a restaurant that will both be an asset to the neighborhood and compliment the programs at Waterloo Arts. […]
Waterloo Arts strives to be a creative hub for the presentation and exploration of thought-provoking art and design.  We advocate for a neighborhood where artists live and work and their contribution is regarded as vital to the health of the community.
Waterloo Arts is a member of Greater Cleveland Community Shares. Community Shares supports local nonprofit organizations working for long-term, sustainable solutions to build a stronger Cleveland. Learn more about Community Shares and supporting social justice through workplace giving at www.communityshares.org